In Memoriam Hussein Samatar
Founder, African Development Center of Minnesota
Hussein Samatar was the Founding Executive Director of the African Development Center. In this capacity, he created several culturally-targeted alternative finance products, and was frequently engaged to address financial, governmental, and other community institutions on the topic of building wealth in emerging markets. Mr. Samatar regularly participated in broader conversations that address existing and emerging economic development issues that impact new American communities. He also provided timely analysis on entrepreneurship and small business development in immigrant communities.
Mr. Samatar's story is a tremendously inspiring one for all, especially the new communities of Minnesotans.
Samatar completed his undergraduate studies from Somalia's National University in 1991. But just four days after graduating, he had to shelve his dreams of being an economist because of a civil war that erupted in his homeland. The bloodshed eventually claimed the lives of his sister, friends and classmates. "It makes you who you are, if you go through that humbling experience," Samatar said in an interview in 2010. "One day, you are on top of the world, and the other day, you are fleeing from shelling, killing and mayhem."
As part of the first wave of Somali refugees in Minnesota, he learned English with the help of a Minneapolis librarian. Eventually, he earned his Master's in business administration from the University of St. Thomas. Prior to his leadership with the African Development Center, Mr. Samatar worked as a commercial banker with Wells Fargo and Norwest Banks. He started ADC with extensive experience in banking institutions, as well as a deep regard for community economic development.
He was selected as a Humphrey Institute Policy Fellow in 2003-2004 and a German Marshall Memorial Fellow in 2007. He successfully completed the Achieving Excellence in Community Economic Development program at the Harvard Kennedy School of Government. Additionally, Samatar first entered public office when Mayor R.T. Rybak appointed him to the Minneapolis Library Board of Trustees in 2006. Rybak remembers him as "an extraordinary leader" and real friend. In 2010, Samatar was the first Somali-American in Minnesota, and most likely the country, to be elected to public office when he won a seat on the Minneapolis school board.
In August of 2013, Hussein Samatar passed away due to complications of his battle with Chronic Lymphocytic Leukemia. We at ADC are grateful for the time we were able to spend with him – to witness his inspiration and drive. We continue to strive toward our mission, and his vision of progress and transformational change. He told us many times that the African Development Center will be his legacy, and we will do all we can to ensure that it is.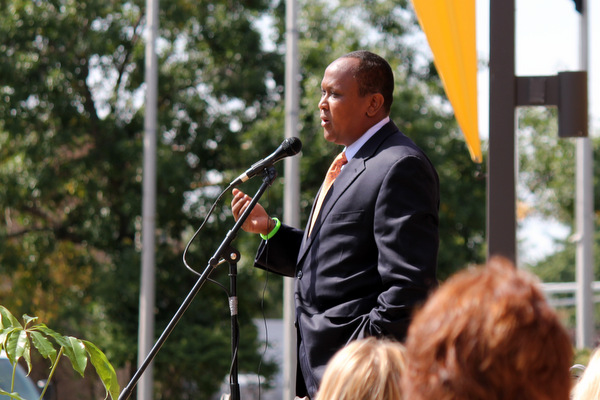 In Loving Memory
It is with great sadness and heavy hearts that we inform you of the passing of our Founder and Leader, Hussein Samatar, from complications of his battle with Chronic Lymphocytic Leukemia, on August 25th, 2013.
Hussein was a courageous and dedicated public servant, and will be missed by many – well beyond those who have benefited from his ambitious initiatives here at ADC, the Minneapolis School Board, and throughout the community.
In all that he did, Hussein brought a level of energy, drive, and optimism that was the envy of many. We will miss him tremendously at the African Development Center, and hope to honor his dream of building economic opportunities and financial sustainability for the vibrant African communities across the state of Minnesota.
More than 1,000 individuals attended services on August 26th to honor the work and life of this unique individual. In attendance were elected officials from the city, county, state, and national levels, as well as hundreds from the community and statewide organizations he so positively impacted.
Hussein is survived by his wife Ubah, and four children.
Thank your for your continued support of our work, and the vision of Hussein Samatar.
Sincerely,
ADC Board of Directors