Financial Counseling with Amal
ADC has always been about economic development and financial empowerment for Minnesota's immigrant and refugee community. ADC recognized early that it is difficult to create wealth if you don't know how to manage your credit. ADC's Financial Education department offers workshops regularly in the Twin Cities and in Greater Minnesota, but an additional and crucial provided service is the one-on-one financial counseling to directly address the personal financial issues facing a great number of new Americans.
Counseling is time intensive and requires clients to come in (sometimes repeatedly, depending on the complexities of each individual) for sessions with one of our expert financial counselors to discuss financial issues and possible strategies for overcoming them. ADC typically serves 100-150 clients per year for financial counseling. These cases usually fall under one of three categories: Short-Term (1-2 hours), Medium-Term (2-4 hours) and Long-Term Counseling (6+ hours). While the majority of cases fall into the Medium-Term range, the following is an example of a Long-Term case that exemplifies the dedication that ADC has for improving the financial situation of its clients: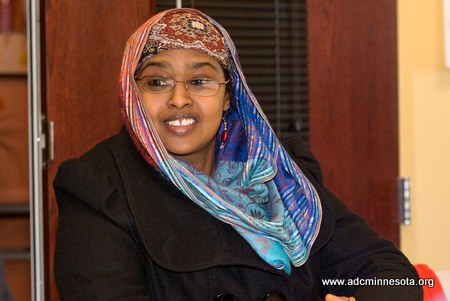 Amal, 
whose name and image we have changed in order to maintain privacy
, first came to ADC in 2005. Her husband at the time was looking for a small business loan and had heard that ADC was a good resource. His plan was approved and he received a small loan to expand his business.
After a difficult divorce a few years later, Amal was left with overwhelming debt, most of it in her name only. She returned to ADC in 2007 and began working with one of our financial counselors. After obtaining credit reports from three agencies, Nimo sat down with Amal to begin the arduous task of determining a strategy to repair her credit. At the time her credit rating was in the low 400s, her debt totaled more than $18,000, and she was classified in the low-income bracket. Together they designed a plan for Amal to follow to tackle her debt, one instance at a time until all of it would be paid off. According to Nimo, "It takes a lot of phone calls, letters, money, and patience from clients who so eagerly want to clean their credit to get a loan for a business or a home."
In the initial months after coming to ADC, Amal found a small apartment despite her credit, but was unable to get telephone, electricity, or gas service because of the enormous bills racked up in her name. Her landlord was gracious enough to put these services in his name, provided that she make regular payments on her previous bills, as well as the current ones.
During the next year, Amal had to lean on her family for support. She was putting so much of her income into paying off debt, that she often did not have enough money for groceries and had to go to her mother's house for meals. With Nimo's help, she was connected with financial tools and community resources to assist her with such things as making payments on her gas bills during the cold winter months.
One by one, she methodically paid off her bills. Four years later, her debt has shrunk to less than $5000, her credit score has improved into the 600 range, and she expects to have all her debts paid off entirely by the end of this year. Nimo believes that the next step for Amal's fresh new start, is to get a secure credit card and start building a good credit history.
Currently, Amal is working and going to school to earn a degree in nursing. She wants to be an RN and hopes buy a car in the near future so that she no longer has to ride the bus in the winter. She even hopes to buy a small condo in South Minneapolis a few years from now.
With the financial discipline she learned working with ADC, these dreams and financial goals are well within her reach.