ADC Education Helps St. Cloud Family Purchase Home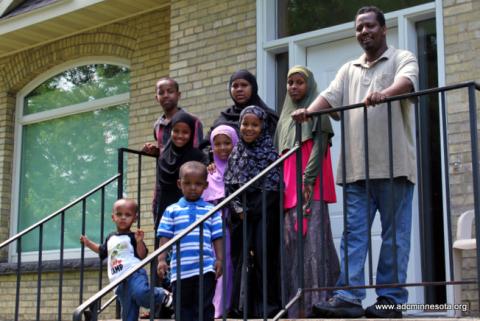 Abdirisaq Ahmed has lived in St. Cloud, Minnesota for ten years. During this time he and his growing family have struggled to live comfortably in a number of apartments. Unfortunately, the dream of owning his own home never seemed a possibility given their situation.
However, after attending one of ADC's Homestretch workshops offered in St. Cloud, Abdirisaq was able to obtain a crucial knowledge economic reality of home buying – planning a budget, attaining mortgage financing and government-sponsored down-payment assistance and avoiding the trap of predatory lending. With the utilization of these tools, financial dreams like this start to seem much more attainable.
Abdirisaq is one of hundreds throughout Greater Minnesota who have taken ADC classes on first-time homeownership and learned how to successfully navigate the U.S. financial system. Like Abdirisaq, many of those who take our classes are new African immigrants who live below the national poverty line. So it is with great enthusiasm that ADC announces that Abdirisaq has achieved the American dream of becoming a home owner through the Habitat for Humanity program.

Along with the approval, Abdirisaq and his family were fortunate enough to find a beautiful, 100-year-old, 5-bedroom home in the city. The terms of the mortgage required either U.S. citizenship or permanent residency, a stable work record, and good credit. In addition, there is a requirement for 400 hours of sweat equity for Habitat for Humanity. After meeting all requirements and helping with the construction work of 4 houses, Abdirisaq and his wife received the keys to their own house.

In love with his new home, Abdirisaq says the best feature is that the master bedroom is on a different floor from the children! Located in a nice neighborhood, with a good deal of space, the children now have adequate area to run and play.
Being an older house, there are still areas, such as the heating system, that will need investments of time and money. However, armed with the tools he learned through ADC, Abdirisaq is optimistic that he will save enough to make all the needed repairs. He is grateful for the opportunity to grow his family in more comfortable surroundings, and his high hopes for the future are contagious. It is easy to see why he has been so successful – he meets each challenge with an eagerness to overcome it.