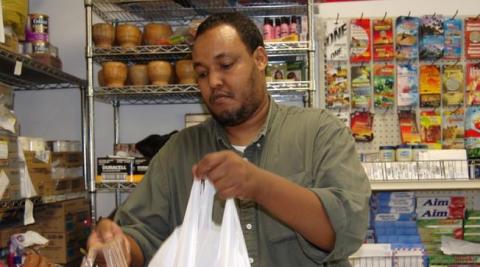 In Somalia, Abdiqafar Adan had a good life. He studied law for a time. He owned a thriving wholesale business and gave private English lessons to university students. Then the country fell apart. In 1994, he sent his wife to America to escape the bloody chaos. Four years later, when hope of a return to normalcy had evaporated, he followed her to Minneapolis and the Cedar-Riverside neighborhood that was, and remains, the nucleus of Minnesota's Somali population.
In these new surroundings, Abdi observed the shortage of Somali groceries. In 2000, he organized seven other partners to start the Afrik grocery store and wholesale operation on Cedar Avenue. The business prospered and began filling another resource shortage by becoming an unofficial neighborhood service center for recent arrivals to the United States.
Abdi's customers brought him their paperwork — leases, contracts, bills — and wide-ranging questions about the American system that his background and English proficiency implicitly qualified him to interpret and advise. He was asked to mediate disputes, opine on domestic issues, provide recommendations and make referrals. He offered these services to friends and strangers at no cost from behind the counter of his small store.
By 1995, Abdi had bought out his partners and was eager to expand. But to take the next step, he needed resources. So he turned to ADC, which provided financing and technical support to move Afrik to a larger location on Cedar Avenue and remodel the storefront.
ADC is honored to be of service to this entrepreneur, friend, father of four and neighborhood home owner. And in recognition of his service to others, ADC has awarded Abdikafar Aden its Community Hero Award for 2007.
Humble and soft-spoken, Abdii allows that it's "very difficult" running his business, but he is happy. His ambitions, he says, are not in business growth but in carrying on as a fixture of the community.