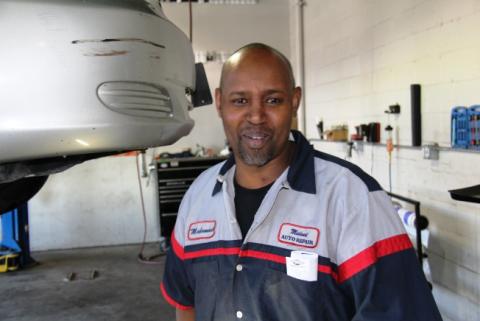 In early 1996, Mr. Mohamud Ali came to the United States from Somalia, a young immigrant with many hopes and dreams of succeeding in this country through hard work and ambition. Mohamud has embraced the true entrepreneurial spirit of providing for his family and the community. His vision and excellent reputation has elevated him to a strong business standing within the immigrant community in the Twin Cities. Mohamud is the owner and operator of Midwest Auto Repair, a full service garage known for its great service and impressive sales growth.
Upon his arrival in the US, Mohamud started working for Arcano Spring in Boston, Massachusetts as a technician. His job included repair and maintenance of autos, and he ran and maintained the lube rack and changed oil, worked on brakes and did car engine repair. He then switched his job so that he could gain different experience; he joined Sulvantires, also in Boston, MA from 1999 to 2005 and he was sent to a better workshop training where he learned essential practices, theories and principles of the maintenance and repair cycle. He decided to pursue his passion of vehicle repair by starting Midwest Auto Repair, LLC in Minneapolis in 2006. He currently has 5 full-time paid staff and this has helped him tremendously since they are all strive to maintain high customer satisfaction since they all have a stake in how much revenue the business generates.
Getting Mohamud's dream of owning and operating his own business took a bit of start-up costs, and the African Development Center was there to help. With some owner's equity, a loan from the City of Minneapolis (CPED) and a loan from ADC, Mohamud was able to get his business off the ground. Midwest Auto Repair is one of ADC's stellar clients; they paid off their first loan early and took out a second loan to expand the business in order to better serve their customers. CPED, NDC, MCCD and ADCput together over $150, 000 to help him with the expansion that cost him over $500,000. Mohamud is a very busy man these days – running an extremely busy shop and being a family man – but to him, it's all worth the effort and determination.